Netify FWA for pfSense
Description
Netify FWA for pfSense is a free and open-source deep packet inspection solution that blocks unwanted protocols and applications.
Netify for pfSense
Are you looking for the Netify Network Intelligence and Visibility solution? If so, please click here.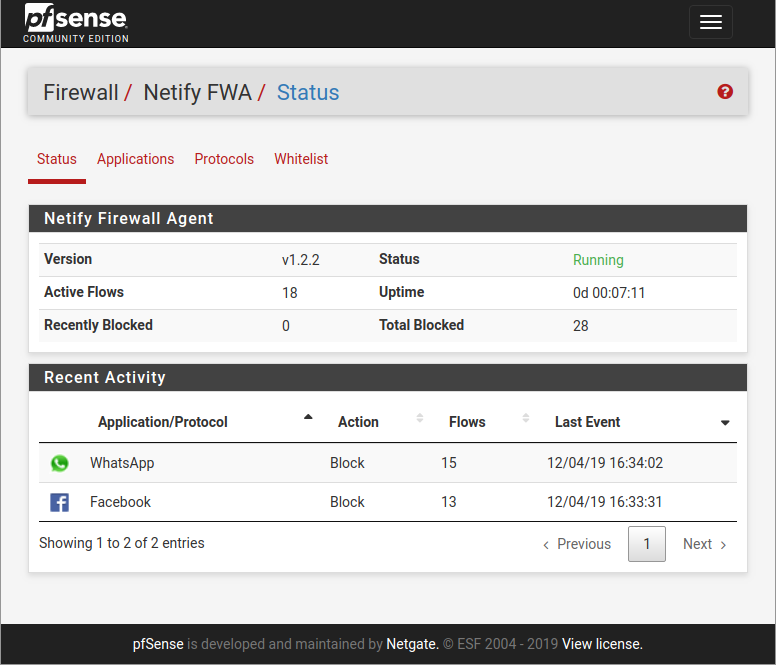 Requirements
Netify FWA is designed to run in tight spaces, so the memory requirements are modest and generally not a concern for pfSense deployments. As for CPU, the underlying Netify deep packet inspection engine requires about the same amount of horsepower as an intrusion detection/prevention system - the busier the network, the more CPU cycles required.
Installation
pfSense 2.4.x
Up-to-date Netify packages are maintained in our pfSense repository. To install the package, run:
curl http://download.netify.ai/netify/pfsense/2.4.x/netify-install.sh | sh

pfSense 2.5.x
Sorry, we do not support pfSense 2.5.x at the moment.
Configuration
Once the Netify FWA for pfSense package is installed, use the pfSense web-based administration tool and navigate to:
Status Services
Please make sure the netifyd and netify-fwa services are running. Once complete, navigate to:
Firewall Netify FWA
You can click through the different tabs to configure application block rules, protocol block rules, and the whitelist. Status information is also shown on the primary Status tab.