Network Intelligence - Simplified
Netify provides full transparency into what's happening on the network. Local deep packet network monitoring coupled with cloud-based analytics to deliver exceptional, business-driven results.
What is Netify?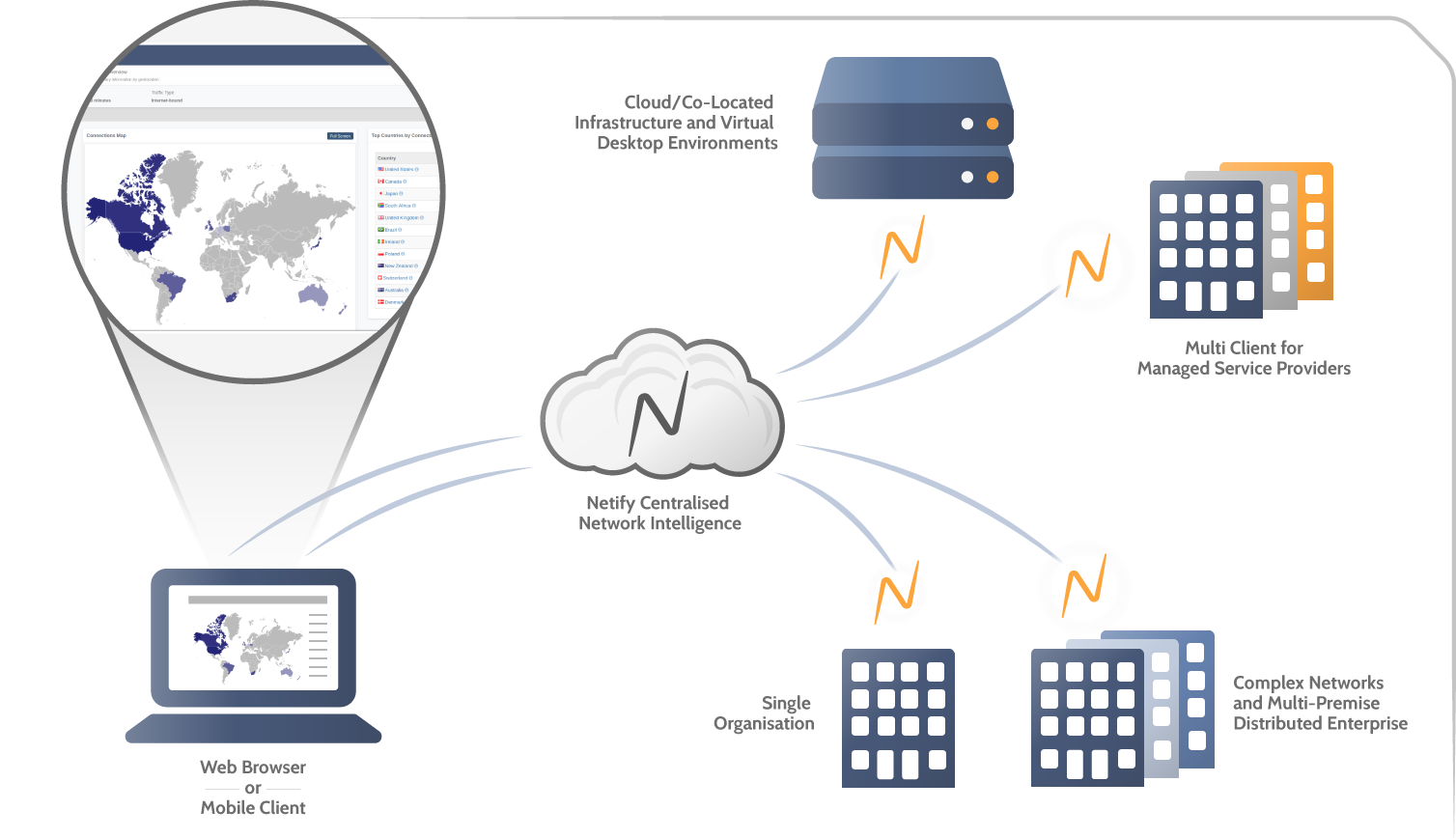 Netify provides complete visibility and analysis of the traffic flows on an organization's networks. Using AI-driven network intelligence, clients benefit from reduced cybersecurity risk, data-driven decision making, increased productivity, and effective regulatory compliance.
Netify starts with a Deep Packet Inspection (DPI) network packet analyzer that passively collects data on the local network. The software engine then securely sends metadata to the cloud for collection, analysis and end user reporting. Unlike traditional DPI solutions, the results from the cloud analysis are later fed back into the on-premise DPI engine to provide next-generation detection and features.
The full solution is best suited to:
Integrators looking to provide network visibility and intelligence enhancements in their solutions
Business owners and executives who need simple, yet meaningful, network intelligence reporting
Businesses and organizations in need of data to drive intelligent decision making around how IT is being used
IT admins and MSPs wanting to take a proactive approach to network threats, bottlenecks and usage
Netify is Network Intelligence - Simplified.
Versatility
Customizable reports and insights to suit the differing needs of end users and decision makers.
Flexible Deployment
Software and hardware agent availability with zero network disruption.
Complete Visibility
Deep Packet Inspection engine with cloud-based machine learning/analytics.
Data Retention
Monthly archives that can be retrieved on demand for auditing and forensics.
Lightweight Agent - Cloud Based Power
Netify is integrated into firewalls, routers, SD-WAN solutions and other devices. Are you looking to integrate network intelligence into your solution? Run Netify as a native agent on your supported Linux or BSD based platform, or inside one of the many container technologies.
Secure, lightweight agent
Powerful, cloud-based analytics
Centralized reporting of distributed networks
Near real-time and historical data archives
Multitenant architecture
Why Netify?
Network monitoring can't be done on a human scale anymore - especially when dealing with complex, evolving security threats. Netify's advanced machine learning simplifies network traffic analysis, filters out the noise and highlights what matters most.
Benefits
Netify Informatics
With today's modern and increasingly encrypted network traffic, you need more than basic NetFlow data. Netify provides enhanced DPI traffic analysis to provide effective protocol detection, advanced application classification, security analytics and more.
Netify Informatics
Get Started
Start your 7-day free trial today. Your first step is to install the Netify inspection agent on your network. There are a variety of options and configurations available. Once installed, metadata and cloud analytics will become available in the Netify portal.
Get Netify