Network Intelligence - Simplified
Netify provides full transparency into what's happening on the network. Local deep packet network monitoring coupled with cloud-based analytics to deliver exceptional, business-driven results.
What is Netify?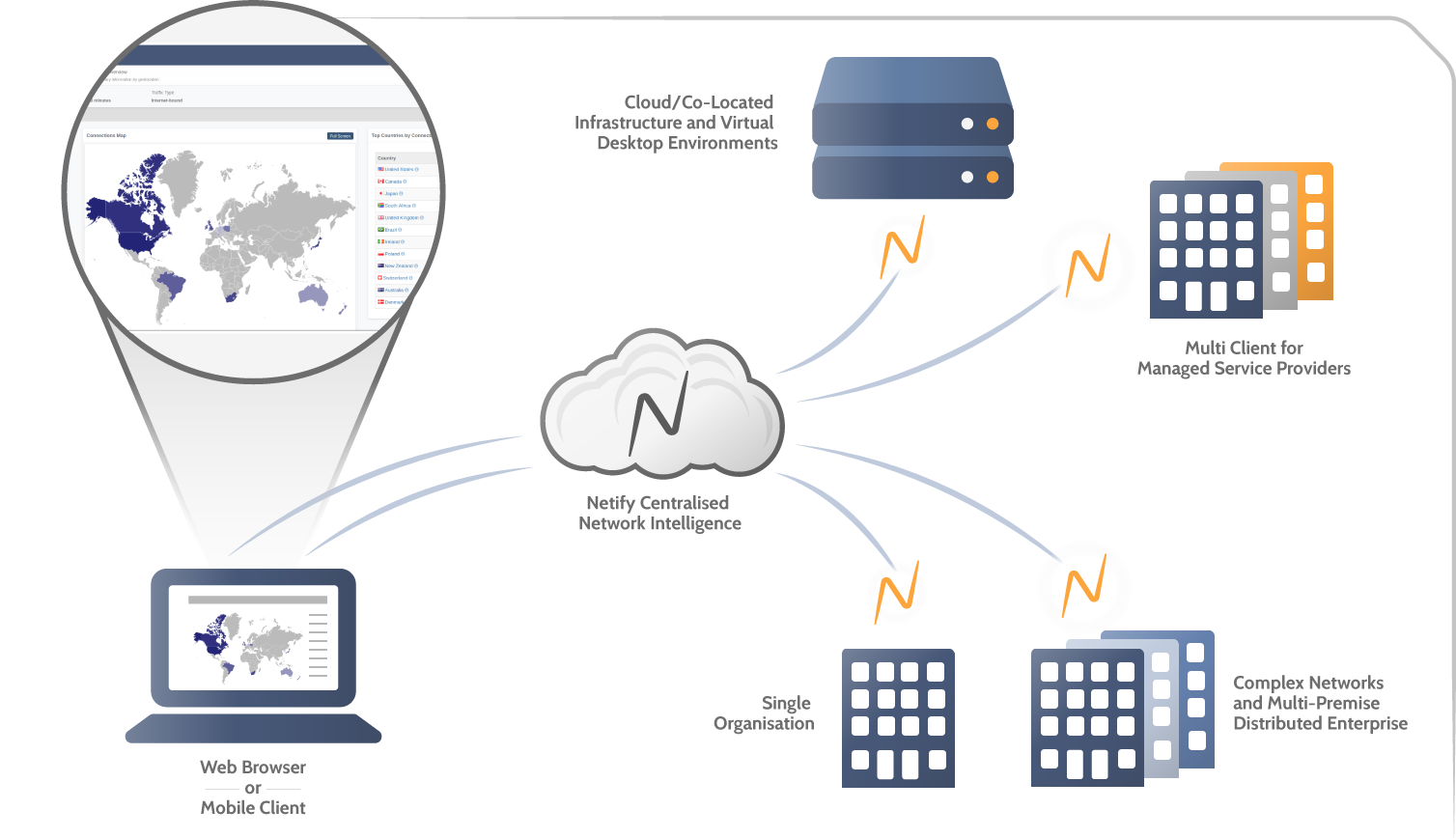 Netify provides network intelligence and visibility.
Our solution stack starts with our Deep Packet Inspection (DPI) engine that passively collects data on the local network. This lightweight engine identifies applications, protocols, hostnames, encryption ciphers, and other network attributes. The software can be integrated into network devices for traffic identification, firewalling, QoS and cybersecurity.
Next, our Netify Informatics engine collects data from local DPI engines and uses the power of a public or private cloud to transform it into network intelligence. From device identification to cybersecurity risk detection, Informatics provides a way to take a proactive approach to manage network threats, bottlenecks, and usage.
Lastly, our Data Feeds provide data to help vendors understand how applications behave on the Internet. Do you need to know the traffic behavior of applications like Microsoft Teams, Zoom, YouTube, etc? Our data feed application intelligence includes domains, IPs, CDNs, platforms, protocols, and other network attributes.
Versatility
Customizable data and insights to suit the differing needs of users and decision makers.
Flexible Deployment
Software DPI agent with zero network disruption. API endpoints to for data feeds and analysis.
Complete Visibility
Deep Packet Inspection engine with cloud-based machine learning/analytics.
Data Forensics
Dive into network data to improve performance, meet regulatory compliance, and more.
Netify Deep Packet Inspection - Lightweight DPI Agent
Netify DPI is a standalone solution that has been integrated into firewalls, routers, SD-WAN solutions and other devices. Are you looking to integrate network intelligence into your solution? Run Netify as a native agent on your supported Linux-based platform or inside one of the many container technologies.
Secure, lightweight, and multi-threaded
Firewall and QoS integration available
Dynamic signature updates
Near real-time data streaming
Optional cloud-based analytics
Network Informatics - Business-Driven Intelligence
With today's modern and increasingly encrypted network traffic, you need more than sFlow/NetFlow data. Netify Informatics ingests data from local deep packet inspection engines, transmits the data to a public or private cloud, and transforms it into actionable traffic analysis. Informatics provides the visibility needed to manage the modern network.
Device discovery
Application and protocol analysis
Network risks and reputation
Visibility and tracking
Forensics and data archiving
Multi-tenant architecture