Netify for ClearOS
Introduction
ClearOS
is an open-source, Linux-based OS platform that is designed from the ground up to be extensible. ClearOS provides any combination of network, gateway and server functionality to small/medium sized business, non-profit organizations, education/government and distributed enterprise.
Supporting best-in-class open source and 3rd party applications through one secure, intuitive web-based interface, ClearOS is about choice - giving administrators the ability to run services on-premise or in the cloud, or both - "Hybrid Technology".
Recommended Mode
ClearOS makes an ideal
gateway
and Netify is offered in the ClearOS 7 Marketplace. If you have or are thinking of using ClearOS as your gateway to the Internet, you can be up and running in under 15 minutes!
ClearOS 7
Marketplace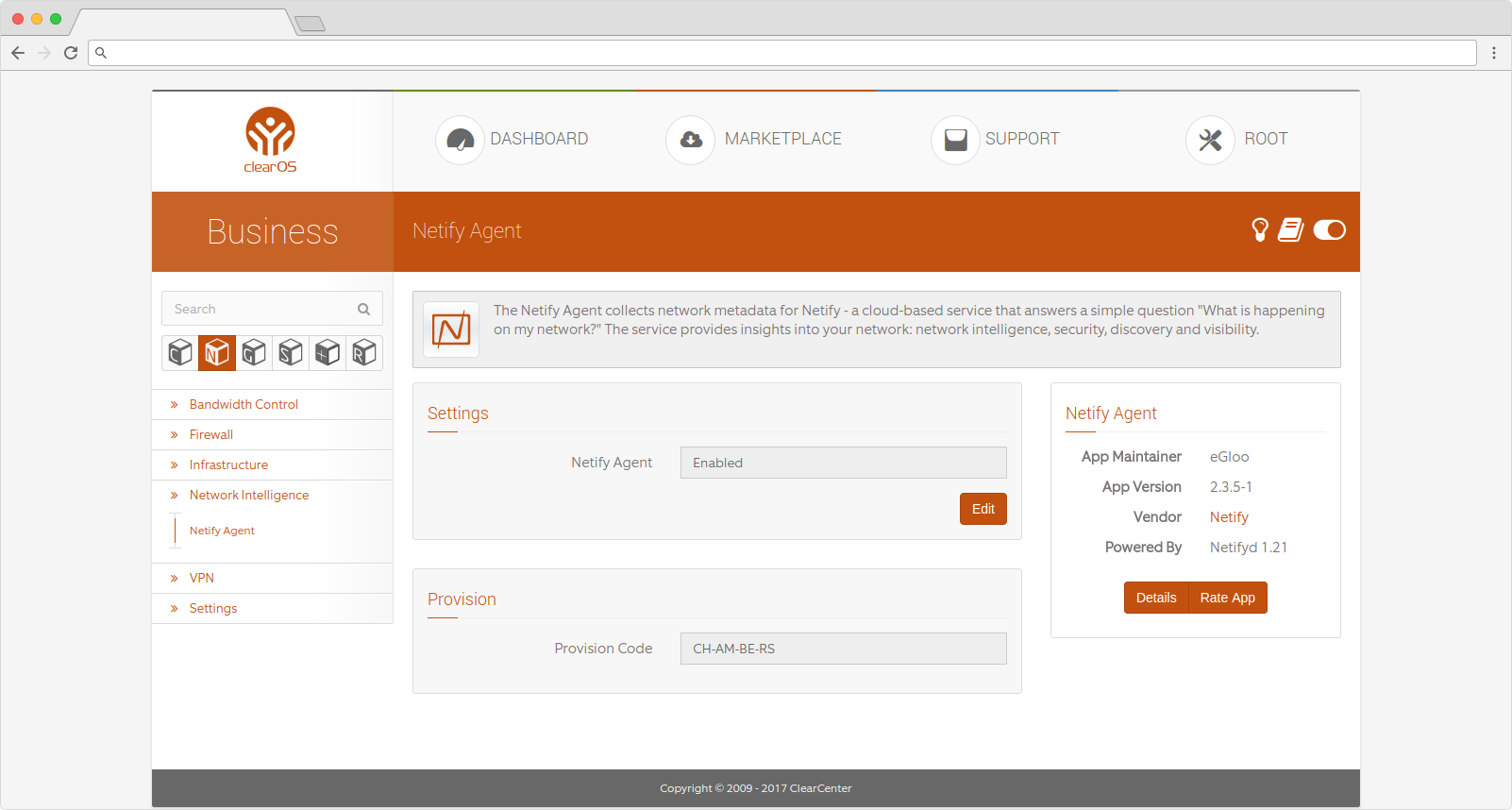 In the ClearOS GUI (Webconfig operating on port 81), click on the "Marketplace" heading after logging as 'root' or some other user having permissions to access the Marketplace. Scroll through the app until you find Netify or enter "Netify" in the
search
filter. Click on "Select for Install" and click on the "Download and Install" button as you would install any other app in the ClearOS Marketplace.
Command Line
If you prefer the Linux command line, up-to-date Netify packages are maintained in the ClearOS repository "clearos-contribs". This repository should be enabled by default, but to be safe, run:
yum --enablerepo=clearos-contribs install app-netify
Configuration
Once the app is installed from the Marketplace or command line, use Webconfig to navigate to:
Network Network Intelligence Netify Agent
In the Settings section, click "Edit" and update the Netify Agent field to Enabled. Make note of your Provision Code - you will need this on the Netify portal when you provision your new agent.
ClearOS 6
Marketplace
The Netify Webconfig app has not been ported to ClearOS 6. Command line installation only.
Command Line
To install the Netify agent on ClearOS 6, run:
yum --enablerepo=clearos-contribs install netifyd
Configuration
Once the netify package has been installed, edit: /etc/netifyd.conf And make the following changes:
enable_netify_sink = yes
After saving the file, restart the daemon with:

service netifyd restart
chkconfig netifyd on