Netify features at a glance
Is your VoIP call suddenly breaking up or video stalling? Find out instantly what devices on your network are increasing latency and consuming bandwidth.
Identify users/devices consuming the most bandwidth
Identify the top websites being visited
Geolocation reports
Real-time and historical data
Learn More »
The Netify machine learning engine is continually analyzing network flows to both detect and predict malware threats.
Map flows to an application - including encrypted traffic
Historical archiving of employee or team-members activity on the network to help solve productivity or policy issues
Netify maintains a growing and dynamic database of defined applications.
Learn More »
Can you say you're tracking every single connection being made out of and into your network?
Archive all flow connection metadata for one year or longer
Drill down into reports to provide detailed information on user, device, protocol, application and more
Discover connections using weak SSL/TLS versions and ciphers
Learn More »
The Netify agent tracks and automatically adds any new devices found on your network for classification, association and labeling.
Real-time device discovery and alerting
Automatic classification of device type using Fingerbank
User-provided data is 100% private, encrypted with a passphrase known only to you
Learn More »
The Netify machine learning engine is continually analyzing network flows to both detect and predict malware threats.
Alert and educate team-members
Reduce cybersecurity risk
Continuous analysis beyond point-in-time retroactively scans for malicious content
Learn More »
Network geolocation identifies where connections are being made in regions around the world
Heat maps quickly show anomalies in typical traffic patterns
Complement Data Loss Prevention (DLP) techniques
Track data usage outside boundaries where additional fees may apply
Learn More »
Filter out the noise amongst the millions of packet flows to identify the signals your network traffic is telling you to make key business decisions
Monitor and record every DNS lookup made by devices on your network
View top websites being accessed from within your network
Identify phishing attempts
Classify domains by category - technology, news, commerce, social media and more
Learn More »
Peer-to-peer file sharing is just one of over 160 protocols the Netify DPI engine can detect and classify. Others categories of protocols include:
File sharing
Video and audio streaming services
Gaming
Learn More »
The Netify mobile app for iPhone and Android provides an always on link to agent reporting to the cloud
Mobile app makes it simple to access data and receive alerts - anywhere, anytime
Maintains customer privacy by storing the encryption key on your mobile device, not Netify's servers
Learn More »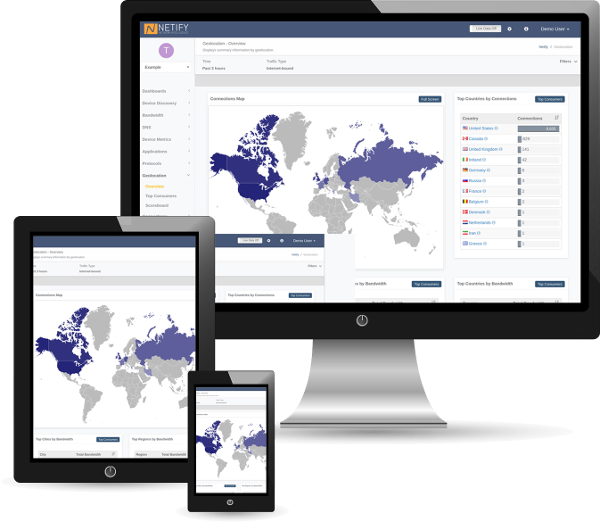 Get in touch
Would you like to speak with a Netify specialist to learn more, see a demo or get started on a free trial?
Contact Us